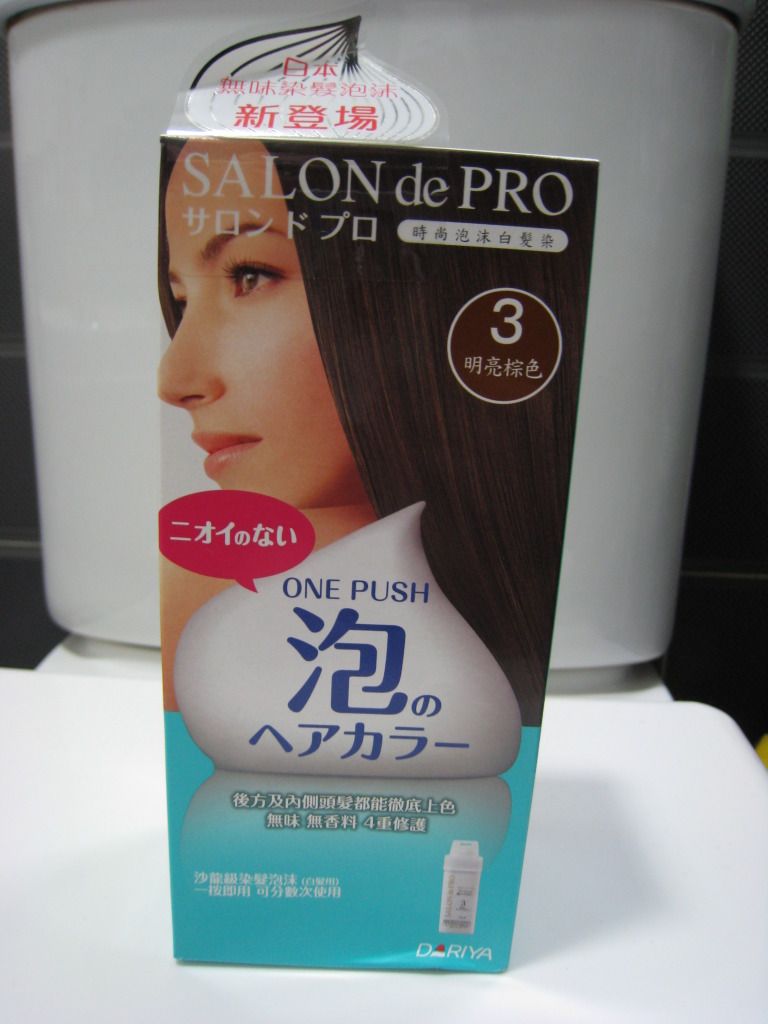 Shade: 3 Bright Brown
Contents: 80g
Price: HK$98.00
Local of Purchase: Mannings
According to
Dariya's webpage
:
Eyes and Nose are not irritated. No unpleasant smell does remains in the room. *If the foam touches the scalp or skin, a reaction odor may be generated.
Foam spreads quickly and dyes evenly and beautifully, including gray hair around the roots of hair, underside and inner partition which are easily missed!

My Opinion:
I would call myself experienced with the foam type hair coloring products, because I basically color my hair every 8 weeks with such products, and so far I've tried
Liese
and
Schwarzkorf
.
When I've seen the comercial for Salon de Pro Foam Type Hair Color, claiming that it won't damage your hair, I've rushed to the store to get it, because the other brands that I've tried, all seems to be causing some sort of damage to my hair, and since my hair is so weak, I've actually considered chopping it off.
While I was using this product my hair was about 2 inches below my shoulder, and one can of product was not enough for my length. Although I did not notice any odor while using this product, my hair has turned really coarse after using it.
Whenever I finished coloring my hair, I will usually do 1 week of intensive hair treatment everyday, just to repair the damages that I've done. Unfortunately after using this product, even with the intensive hair treatment, my hair was irreparable..... I had to chop off about 3 inches of my hair, and now my hair is barely touching my shoulders.