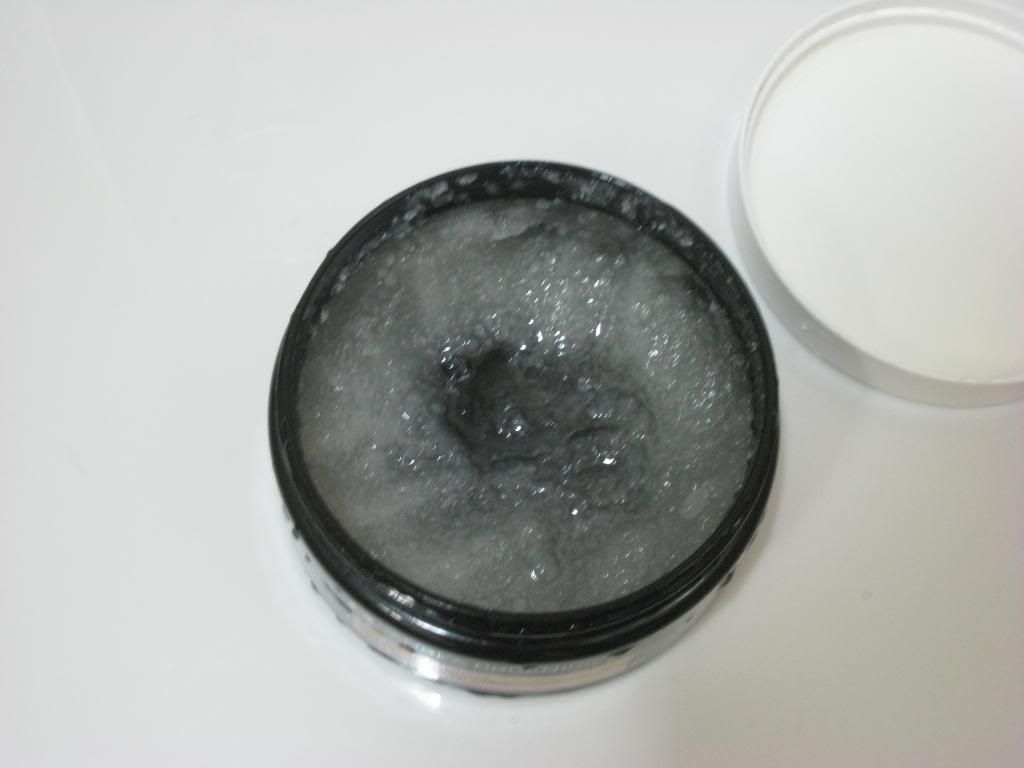 Contents: 8 fl oz / 226g
Price: HK$219.00
Local of Purchase: Venetian (Macau)
I went to the Pangea Organics webpage but there were no info about the product, but after goggling, I found the following info at
drugstore.com:
Gently Polishes Away Expired Skin Cells

Reveals Fresh, Velvety Smooth Skin

Nourishes & Hydrates
Brown sugar gently removes rough surface cells while nourishing cocoa & shea emollients deeply condition. Breathe deep & enjoy this euphoric blend of plan essences sure to uplift your spirit & leave your skin deliciously soft & alluring.
Ecocentric Bodycare
Always: Pure, nurturing, handcrafted, cruelty-free
Never: Sulfates or detergents, synthetic preservatives, artificial colors or fragrances, GMOs
Brazilian Brown Sugar: Perfect for even the most sensitive skin types, brown sugar gently polishes away expired skin cells. This mineral-rich natural resource contains calcium, potassium, phosphor & iron which are helpful for softening & conditioning the skin. The molasses in brown sugar contains beneficial amounts of B vitamins, potent antioxidants that help stimulate cell rejuvenation.
Cocoa Butter: Like chocolate, cocoa butter contains natural compounds that promote relaxation. Massaging the skin with cocoa butter has been shown to help relieve stress & boost skin elasticity. Along with promoting a sense of well-being, this incredible natural resource is chock full of powerful antioxidants to help soothe, hydrate, balance & combat visible signs of aging.
Essential Oil Aroma Blend: A signature within the Pangea Organics aroma experience, this euphoric combination of Grapefruit, Lavender, Geranium & Thyme is as beneficial for the skin as it is uplifting to the spirit. Fresh & energizing, grapefruit is high in d-limoene, a skin-restorative antioxidant. Geranium's balancing floral notes calm the nervous system while helping to firm & tone the skin. Classic & relaxing, lavender & thyme are widely used to promote the restoration of damaged, dry skin & soothe frazzled nerves.

Ingredients: Sodium Chloride, Helianthus Annuus (Sunflower) Oil (Organic), Carthamus Tinctorius (Safflower) Seed Oil, Sugar (Organic), Theobroma Cacao (Cocoa) Seed Butter (Organic), Butyrospermum Parkii (Shea) Butter (Organic), Tocopherol, Pelargonium Graveolens (Geranium) Flower Oil, Citrus Grandis (Grapefruit) Fruit Peel Oil, Lavandula Angustifolia (Lavender) Oil, Glycine Soja (Non GMO Soybean) Oil, Thymus, Vulgaris (thyme) Oil
My Opinion:
I've hated this product, it left my skin super greasy after using it. I've tried exfoling first than washing it off with another shower gel and my skin was still greasy.
Another issue that I had with this exfoliator was that the sugar melting really fast, and I didn't have enough time to exfoliate, so I kept on applying more products. I've used this twice and about half of the tub was gone. Definetly won't recommend or repurchase.