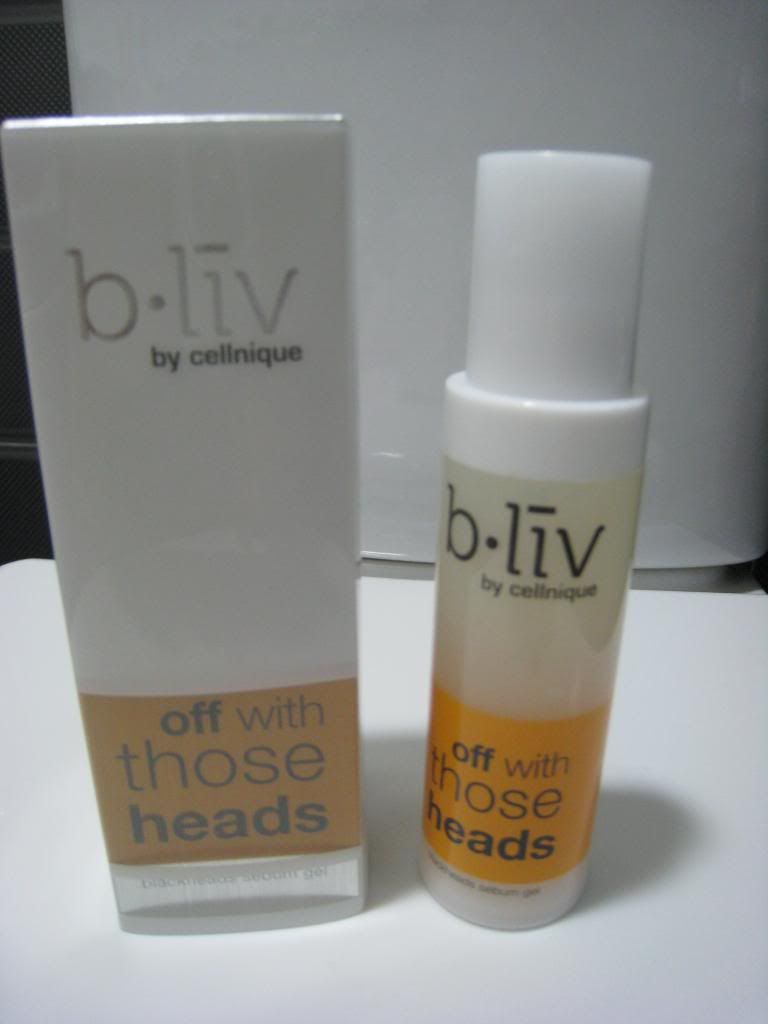 Contents: 1.5 fl oz / 45ml
Price: HK$490.00
Local of Purchase: Sasa
B˙liv by Cellniq Off With Those Heads Blackheads Sebum Gel eliminates white and blackheads, removes oil secretion and gets rid of pore-clogging impurities. Leaves your skin clean and refreshed. The sebum ingredients such as tea tree oil, eucalyptus oil, witch hazel extract and aloe vera extract effectively handle the blemish skin. Suitable for clogged and combination skin.
how to use it
Clean face.

Apply sufficient amount of Off With Those Heads serum on your palm.

Apply on T-zone areas or areas with black and whiteheads.
Remarks: Sensitive skin may experience mild stinging sensations.

Ingredients: Purified Water (Aqua), Aloe Vera (Aloe barbadensis) Extract, Witch Hazel (Hamamelis virginiana) Extract, Carbomer, Propylene Glycol, Menthol, Tea Tree (Melaleuca alternifolia) Oil, Poly(Oxy-1,2-Ethanediyl)Α-(Donyl Phenyl)-Ω-Hydroxy, Sodium Hydroxide, Peppermint (Metha piperita )Oil, Methylparaben, Propylparaben, Diazolidinyl Urea.

My Opinion:

I don't have a huge problem with black heads, only around my nose, and I can get rid of those easily with a deep cleanse mask, I got this product mainly to try it out, without expecting much from it.

I've been using this product for nearly a month, for the first week I've noticed that my skin was oilier than usual, but since this was mentioned in the packaging I kept on using it.

On the second week I've noticed some serious clogged pores that I was unable to squeeze out, and I was ready to toss it, but since these clogged pores didn't turn into acnes, I've started to deep cleansing my skin more frequently (about 3 times per week), and that seems to diminish the problem.

I'm on the fourth week now, and I'm still having issues with clog pores, but the problem seems to be less dramatic than before, I'll try to finish off my tube but I don't think it did much for my skin.

Update 22nd September 2013:
I've been using this product for 2 months now and am about half way down my bottle, I no longer have problems with clogged pores and I'm free of black heads.

I still deep cleanse my face once or twice per week and have been very satisfy with the results, I just wasn't expecting to take so long to see any actual results, will definetly repurchase.