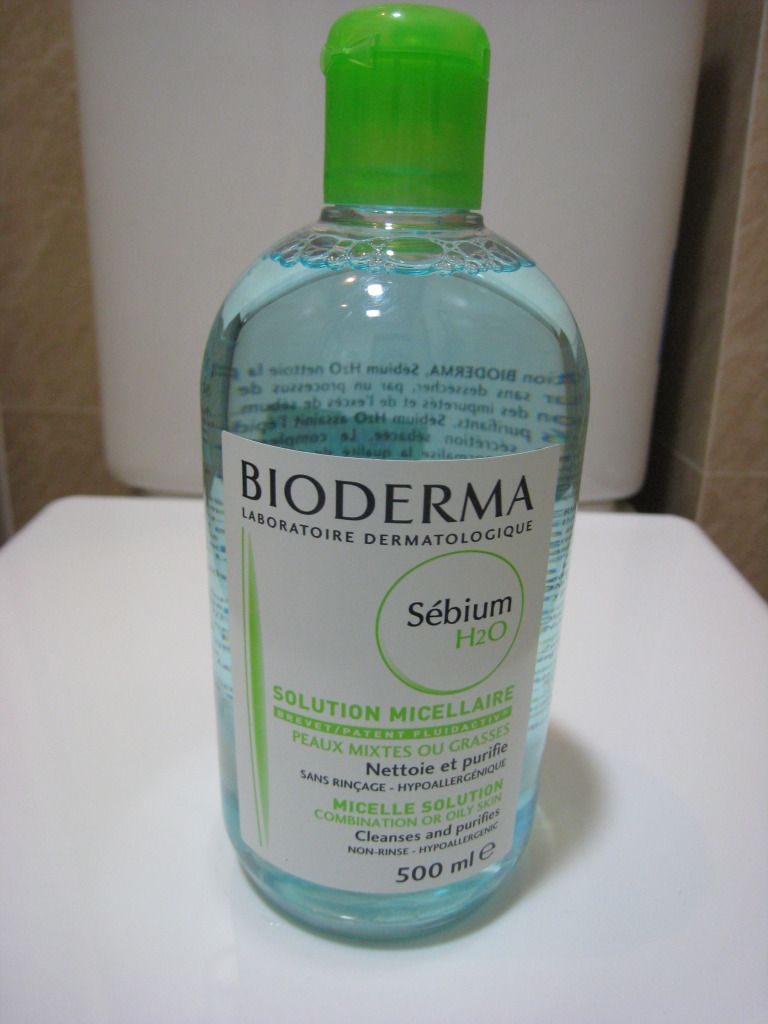 Contents: 500ml
Price: HK$108
Local of Purchase: Bonjour
The benchmark micelle solution that daily cleanses and purifies combination or oily skin.
Method of Action:
BIODERMA innovation, Sébium H2O gently cleanses the skin without drying it, through the micro-emulsion of impurities and excess sebum.

Enriched with purifying active ingredients, Sébium H2O cleanses the epidermis in depth and regulates secretion of sebum. The patented sebo-correcting complex, Fluidactiv®, normalises sebum quality.

Sébium H2O guarantees excellent cutaneous and ocular tolerance.

Sébium H2O is non-comedogenic.
Directions for use:
Sébium H2O is an ultra-mild cleansing formula, use it with the utmost care. Soak a cotton pad with Sébium H2O and cleanse your face. Repeat the application until the cotton pad remains clean.

Sébium H2O needs no rinsing but it is essential to dry your skin. Dry gently. Pat your face with a clean, cotton towel.

Sébium H2O can be used daily, morning and evening.
Ingredients: WATER (AQUA), PEG-6 CAPRYLIC/CAPRIC GLYCERIDES, SODIUM CITRATE , ZINC GLUCONATE, COPPER SULFATE, GINKGO BILOBA EXTRACT, MANNITOL, XYLITOL, RHAMNOSE, FRUCTOOLIGOSACCHARIDES, PROPYLENE GLYCOL, CITRIC ACID, DISODIUM EDTA, CETRIMONIUM BROMIDE, FRAGRANCE (PARFUM).
My Opinion:
I've found this at Bonjour for HK$108, which was a bargain, because it usually retails for HK$228, and I've used it for about 2 weeks and I'm ready to declare that I've been converted. This cleansing water is so different from Sensibio, with Sensibio I always have to go over it with a foam cleanser or rinse it off with water, because it feels sticky, but with this product, my face feels fresh and clean, and I don't have the need to go over it with another cleanser or rinse it off with water.